NO ONE
on this planet gives one shit about Tiffany "New York" Pollard... but the cats like me, that just cant get enough celebreality, know that giving Chance and his brother Real from "I Love Money" and "I Love New York" fame will be pure genius. Well my prayers have been answered in the form of VH1's newest "New York" spinoff... "Real Chance of Love". YYYYEEEESSSSSS!!!!!!!
Thats right folks, they gave these guys...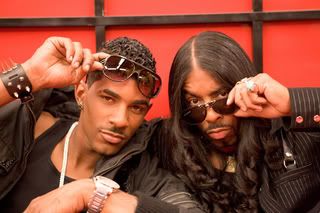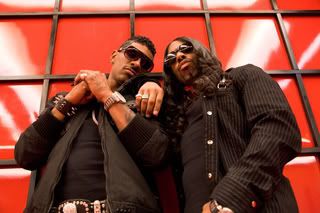 Whew where do i even begin??
My man Real has got to quit it with that hurr. It is just killin me, mah dude is seriously rockin a weave son. A WEAVE!! everyone knows youre bald dog, give it a rest, that horrible mess on top 'yo head aint get yo' ass wit' hoopz, what you think, its gonna be different now?
Then theres Chance... sigh, this guy stays rockin an extra smedium wife beater even though he makes snoop's ass look like Debo..
Let me just ask this, isnt there a 3rd brother? He can't get no shine, no let me guess hes gonna play the roll of the butler??
Their music is God Awful, but i gotta admit, the characters these fools came up with are just flat out great.
The Stallionaires boyiee!!!
Next lets get to the Hoes, ahem, i mean "ladies" that will be vying for the affection of these 2 scrubs...
First up we have "Bay Bay Bay":
aight, this bird looks like a carbon copy of Shaunie O'neal (see: Shaq's wife) which wouldnt be bad if the bitch wasnt 45. I like that isnt all weaved out (I guess Real's got enough hurr for the whole show). Thats a bad angle to get an idea of what shes workin with (if shes workin with anything at all).
Next up is Bubbles:
oh hellll nah, this birds hair is flat broke. She has run too much bleach through that mop and that hair is crispier than flavor flavs socks. Im lookin past that though and seein some of that elusive white girl thickness. We only get one angle here, but she looks like shes thick in the thighs, and the thighs dont lie. The problem i see here is simple though, she looks like shes about a half pint of Ben & Jerry's away from bein over the limit, cause that midsection is anything but silky.
Next we have Cali...
Yep, the prototypical blackanese hoe. She's got the best hair so far, but those big ass jolies (see: lips) gotta go. Plastic is just not the way to get it done ladies please. Moving past that, she looks to have no curves of any sort, kinda got that Brooke Hogan thing going on (see: thick, but no definition anywhere). She's gonna be the one all over Chance.
Next we have Corn Fed: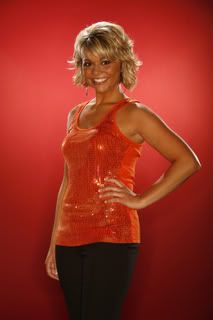 WTF?? Corn Fed... are ya'll seein the same thing as i am?? Aint naddaneow-nadda-neothin corn fed about ol' girl right chea. That tan in a can, leathered out skin compliments that ridiculous mop on her dome-piece.. That outfit is suspect as all hell, she looks like she was a gymnast in her 20's but now in her 40's gravity is taking over. She will not make the cut...
Next up is Harmony: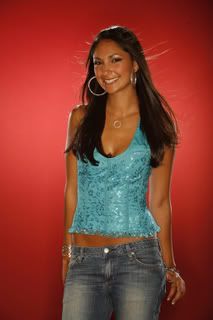 Shes got the prettiest face of any of the hoes so far, and definitely the best hair, but shes lackin in the chest plate, the waist blends in with the hips meaning that there are no signs of any ass there, this is terrible cause she might have a chance to break the stigma of hot mess on this show if she had ANY sort of a body.
Next up is Isha: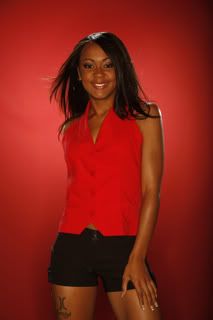 Whoa, how did this broad make the cut?? I mean she kinda looks that R&B singer Nivea in the face, but there is literally nothin else goin on here, except for that tatoo mid-thigh... Does that say "Gemini".... oh brother.. according to astrology-online.com gemini's are "nervous and tense, superficial and inconsistent, cunning and inquisitive"... look out Chance i think we just found your girl.
Next we have Ki Ki:
give credit to Ki Ki, shes workin the body angles to give herself the most flattering shot she can, but the bottom line is ol' girl really aint workin with much and that huge tattoo on her right shoulder looks like it used to say "Day Day" before it got covered up. Shes a bottom of the barrell type skee-o, but on the flip side shes prolly a ride-or-die hoe. She could fuck with DMX, im positive.
Next up is K.O.: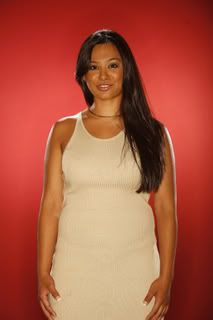 Yikes!! this girl looks pregnant yo! that face screams "how did i get here" and what about that nap lookin like she just stepped out of a convertible doin a hunnie on a highway. She obviously didnt get the memo that these are the "glamour" shots and everyone will be seeing them. Shes gone the first night, unless Chance finds out its his baby she's carryin'.
Next up is Lusty: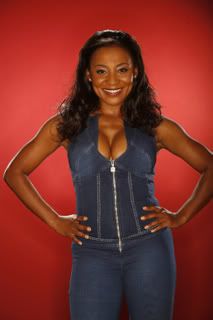 Aight for real, Where are they findin these broads?? This hoe is straight up the black version of Rodeo from "Rock of Love"... peep the evidence...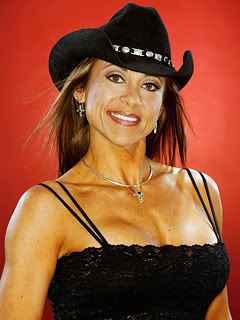 NEXT!!
Meatball (i swear thats her name):
Is it just me or does she look exactly like Danica Cooper a.k.a. "Winnie" from "The Wonder Years"??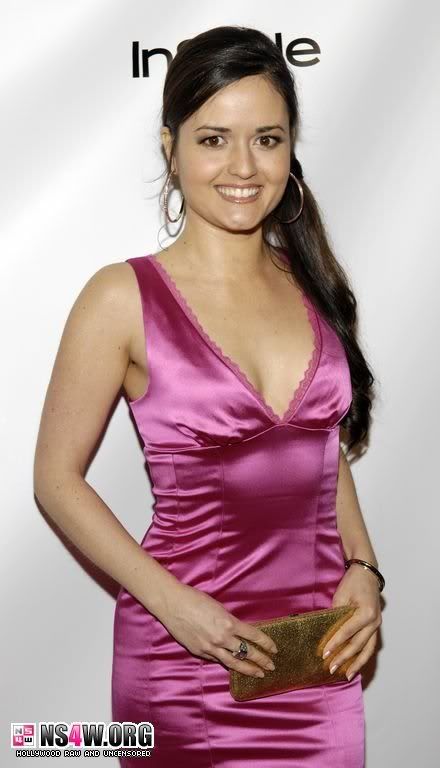 Nexy we have Milf: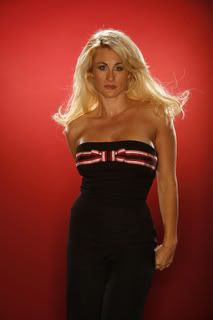 WHOA! tranny alert, this broad is rivaling Alexis Arquette for tranny of the year!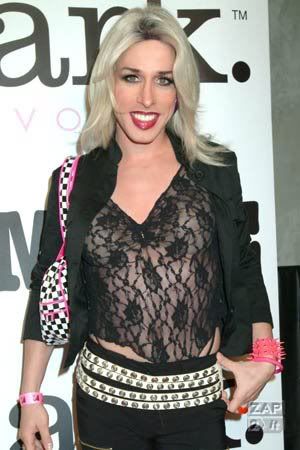 Next up is Promo:
Shes your average run of the mil bottle blonde with a good make-up job. Shes prolly cleets before she applies the 10 pounds of maybeline, but as long as she stays in wardrobe/make-up she can be tolerated. Overall the best thus far. Note: The chest piece looks right, but theyre prolly silicione, and although the picture does not lend itself to full examination i suspect there may be a hint of a backyard there. We'll have to wait and see.
Next up is Rabbit:
I hope they didnt steal this name from the hottest cartoon hoe of all time "Jessica Rabbit" cause this beast aint doin her no justice. That weave, simply put, is hideous. Please ladies, by all means, use the weave to your advantage, but there is not one person on this EARTH that believes your hair is 1/8 that length. Youre lookin mighty busted...
Side note: i have noticed that VH1 casting strayed away from the enhanced chest plate broads this time around, gotta respect that... movin on though...
this is Risky: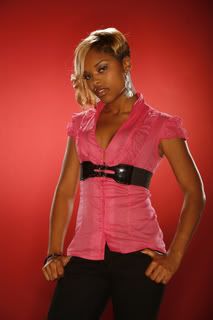 Oh no. This bitch looks like that crazy ass American Idol hoe Fantasia, minus the braces... lets have a look...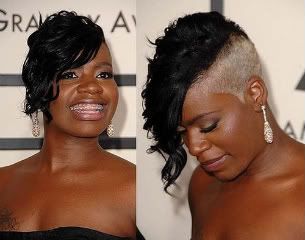 Yup, thas her.
Next is Sexy Legs: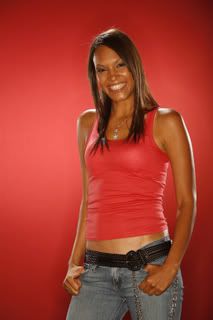 She looks like shes gonna be the "Im real, easy-going, best friend" type-a-hoe. Which is fine with me, every show needs one, but id rather see her be a flat out freak. Her look is WILD, especially that "sturdy chin".
Next is "So Hood" (yeah, they really went there):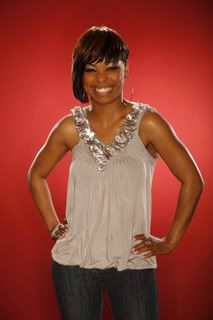 The name speaks for itself dog. She looks bougie as all hell. Shes obviously gonna be that crazy beezy on that "bitch keep my name out yo mouth" shit, until Rodeo's black counter part Lusty slaps her upside that filthy ass wig piece and sets her ass straight. Oh man, this is going to be good...
Last and hopefully not least we have Stalker: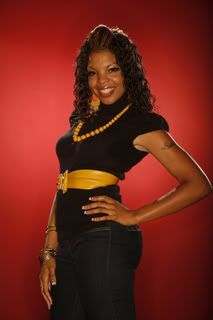 Ok, extra points for workin the angle ms. thang, but bottom line, youre lookin pretty horse-faceish... but youre prolly real pretty on the inside.. hence the reason they call you stalker?? You are prolly the wildest one of the bunch, and i aint mad at that. DO WORK, girl, were all waitin to see you get it poppin. P.S. shes got that "Remy Ma" skunk wig piece jumpin off. LOL. do you see the bleached draids rolling back into that see of weaved out curls.. Good Lawd...
OK overall, i am excited about the show, but not one of these bitches is in the league of some of the other great celebreality staples from shows past... (See: Hoopz)... matta of fact, since not one of these broads is showin me somethin to really be excited about, lets unleash some Hoopz shots and let Real know he never had a shot!!!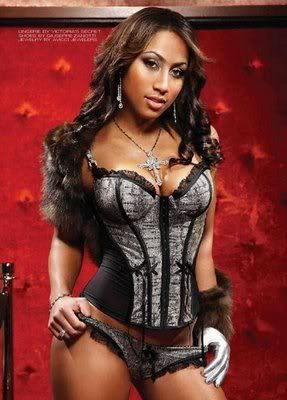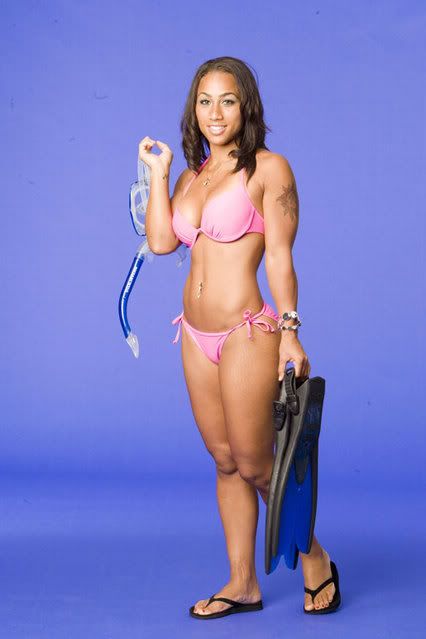 Man i know Flav wishes he had that one back...
Check back every week for updates...