This is a terrible shame. You can read the whole story
HERE
, but a brief summary goes a little somethin' like this:
The erotic personal services section of
craigslist.org
has collapsed under the pressure of the "ultra conservative life ruining anti-gay fuckin' loons" on the far right and decided to no longer allow for online solicitation of prostitutes.
well Shit. Where else am I supposed to find such beauties as these:
Her information can be found
HERE
.
OR how about this bruiser
HERE
...
Or my personal favorite:
MY NAME IS AMY, I AM A SUPER SEXY LATINA /WHITE MIXED, I STAND 5'9 210 LBS 44DD BREAST
.
Man, I am really going to miss browsing the erotic personals (strictly for material, never for business). HAHA.
Everyone remembers this gem right??
Product of
craigslist.org
.
What a shame. R.I.P. online prostitution. Well, not exactly, you can always fuck with
THIS GUY
if you're in the Florida, Georgia, Dirty South area. Peep the talent he's workin with...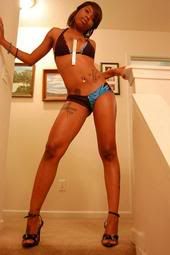 Risky business right there. A hooker with a gun? (wiping my brow) Whew!
E-Mann is reallllly pimpin' right there. Keep your game tight Peeimp.
-Uncle Ollie da Don