Because I love you all so much, here's a little Beyonce camel action.
I know I've been gone for a while, and I have no real excuse other than my lack of drive and work ethic.
I've been recovering from the weekend for 2 days now and I still aint right. The Dr. denied my refill so I've been a real mess as of late.
So basically what I'm saying is; I'm sorry for slackin' but fuck you. Why don't you try writing a blog. Not everyone can do this ya'know. It's hard to be consistently funny and fresh.
Sure, anyone could make some posts every day, but to keep it funky on a regular basis requires alot of personal time, and considering I just got my job back, the personal time graph is looking a little lopsided.
On to the weekend...
Saturday: We had a Luau (lou wow) for my niece out at my mom's crib and I was surrounded by a gang of 10 and under's from about 9:30 a.m. til about 8:30 p.m. (when I passed out). Between those hours I managed to consume a pretty hefty amount of beers and played a shit load of cornhole (no homo).
In celebrity news:
Not to be outdone by Cassie who released several NSFW pics available
HERE
,
HERE
, and
HERE
(yowsers), Rihanna, errr, Chris Brown, or a combination of the two released several NSFW photos of little miss RiRi gettin it right for the summer.
What is up with that ridiculously high waisted 80's thong piece? haaa.
Rihanna lets em know once and for all that all that speculation as to whether or not she's workin' with some tail was nonsense. That's a nice handful, and those titties are right.
If you want to see the rest of the series of NSFW flicks, they are available for you right over
HERE
, including one of Chris Brown with panties on his head.
Sunday: Every year for the last, I'ontknow 20 or so Young Smalls (my brother) and I attend the Woodlake Rodeo with my mom for Mother's Day. It's what she wants, so we do what is asked of us. In recent years, basically since we've been of legal drinking age it has become a tradition to bring the homies along as well. This year was no different. Knowing damn well how hard I was going to drink, I chose to leave the camera in the car so I only have the following photo(s) from the day, but they capture the essence of how I was feeling quite well if I do say so myself...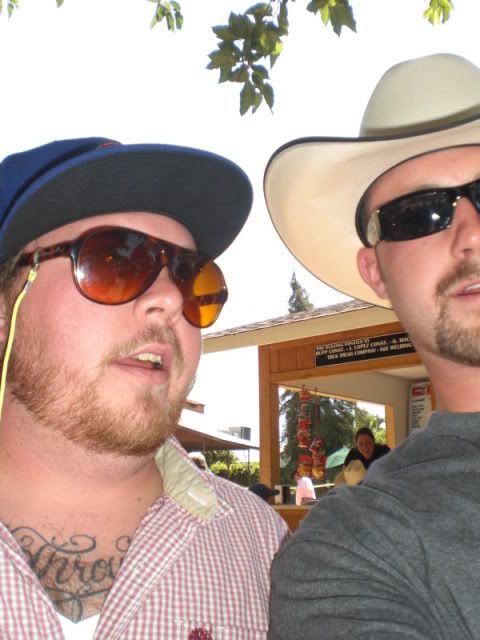 With photos like these floatin around on the web, I am bound to be famous by closing time Friday.
I am officially back, and am going to work harder than ever for all of you folks.
Big shouts to everyone who drank with me Saturday or Sunday.
Big shout to Mom Dukes for being the illest giver of life to ever give life to the illest blogger to ever blog.
Now that you're caught up to speed, on to the next post(s).
-Ollie