This is a new segment I have been thinking about and finally decided to go ahead and do a post.
I want to give a shout out to the homie Reez from
Thegluttony.com
, because this meal is extra glutt.
Today's subject: Bacon/Cheddar Waffle with Eggs over easy.
Farmer John bacon, I prefer Kirkland brand from Costco, but hey, it was here.
Tip: To keep your bacon flat, put the bacon in the pan cold with the burners off.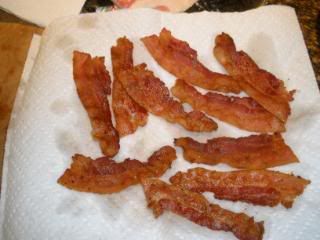 To get the best possible bacon, ALWAYS pull the bacon out of the pan before it is completely cooked. Remember, bacon still cooks (the grease is still hot) when it is removed from the pan.
Tillamook medium cheddar.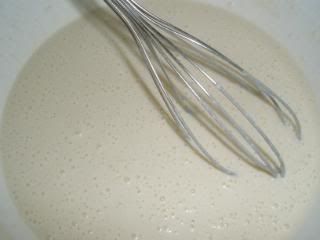 Follow directions for waffle batter on the box. I prefer to use Bisquick. Notice the little air bubbles? The more bubbles, the lighter/fluffier your waffles will be.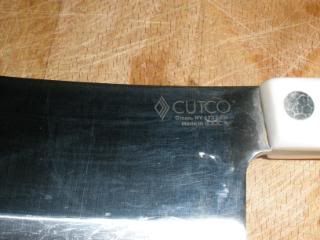 Chop up the bacon using your trusty Cutco butcher's knife.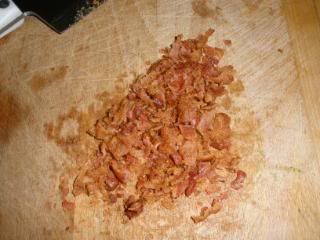 Add the bacon to the batter...
Add the cheese...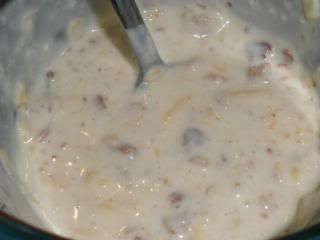 Blend...
Make sure to use alot of pan spray to avoid sticking. Pour batter (with bacon and cheese) into waffle maker. Let it cook.
Use butter instead of oil for better taste when frying your eggs.
Turn off the burners right before you flip your eggs, to make sure they stay over easy. You want the eggs very runny, but not quite sunny side up.
Pull your waffle out of the waffle iron. Throw it on a plate, cover in butter...
Put your eggs (hopefully over easy) directly on top of the waffles. Drench with syrup.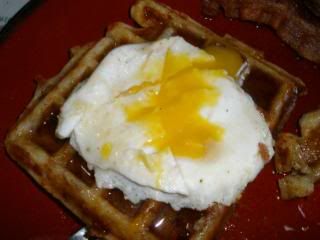 Make sure you pop the egg to release the yolk, when it blends with the syrup it creates one of the best tastes on the planet. Consume and enjoy.
Serve with an extra large glass of chocolate milk.
-Ollie the Chef