My initial reaction?? Wow. Scoob Blue is a fucking pervert yo. Straight up. HAHA. Is that milk dripping all over his body?? Your god damn right it is. You don't think Scoob is a pervert?? Well, let me learn ya...
I think that picture explains it all... HAHA. You know it's all love Scoob.
As for my man Shamrock, (
Sam from FTKconstruction.com
) mega uber gangster props on that human pores animation. That shit is hype.
When we asked Sam how he felt about his dance maneuvers, his only response was...
"Fucking White People". We are coining this as
THE
phrase for 2009.
I have a few more gems from the Draft Klick show back in February, what better time than now to post em up...
Meet Peaches:
That's Steve Macmen's grandmother and she is one helluva lady.
Yo Mac, how do you feel about the BAMA??
Is that a good thing??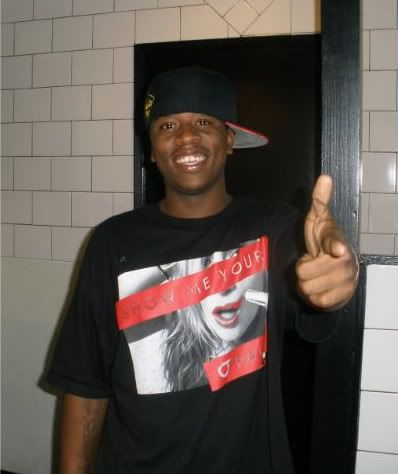 Good, I thought so.
Moral of the story??
Draft Klick is with the shit. They make straight drug induced, party anthems. And that, my friends, is something I can get behind (no homo).
-Ollie