Last week you'll remember how all I could do was piss and moan about how sick I was and wah wah wah. For your information, it was all completely 100% true. I was layed up in my bad like a burn victim with a nasty sinus infection, and no matter how many vicodins I took, I couldn't shake the sickness.
Anyways, Friday afternoon, Smalls (my brother, a.k.a. D.J. Fuzzy Badfeet) shows up and says it's Kyle's birthday and we gotta find some strippers. I tell him I don't know if I can go because (at the time) I was only feeling about 60%.
I immediately changed my mind about not going when I thought outloud to myself "you're going to pass on an opportunity to slap some tits and humiliate some beezies?"..."Man the fuck up Ollie or you're credentials will be revoked.
Here's a pictorial of what transpired Friday night.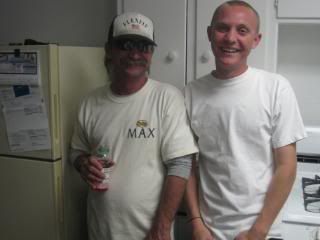 My uncle, a.k.a. "The Macho Man Dale Earnhardt Savage" stepped in the arena.
A bunch of young BAMA groupies slid through. I tried to hand them stickers and they all said "wait, you're the guy who writes that site?? We LOVE it..." So i gave them stickers and we had an impromptu photo shoot.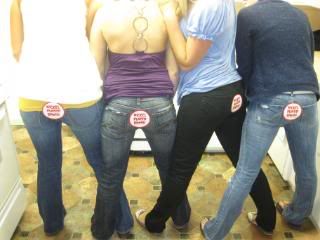 Oliver Wrist "The Loverboy Grunt" made his triumphant return to the wheels of steel and burned the house down with my set...
One of the BAMettes (the young groupies) asked if she could pose for a picture behind the turntables to "look like she was djing..." I said "FUCK NO, but I'll give you one free lesson..."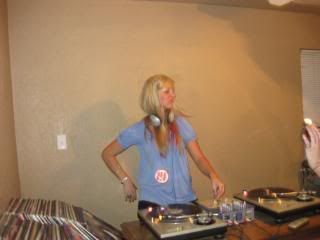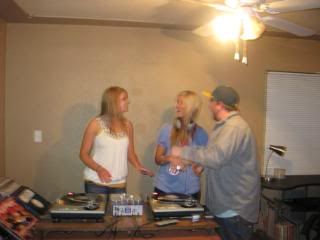 Giving instructions to drunk underage girls...
Sure was alot of Dicks in the joint...
The hoes arrived:
Due to my super official macking game, I got ol' girl to pose for a couple of joints before her bodyguard/pimp stepped to me and said "no more photos". I politely explained how big of a celebrity I am, and the fact that I cared enough to take their photos was a compliment and this was going to help her career...
The bouncer wanted to be down:
They're were 2 strippers. One was cool, prolly cause she was kind of a rookie and just wanted drugs. The other one was a straight seasoned vet. Turbo bitch. Was not havin any of the photo taking, so i went ahead and just filmed the whole fucking thing. Only problem now is finding a video hosting site that allows nudity, so for the time being, this is the only video that youtube let slide...
Trust in your boy, I got a solid 6 or 7 more minutes of quality stripper footage to post as soon as I find a host that isn't a porn site. Moving on...
My mom, my aunt, and my other aunt and uncle showed up to parlay with us during the strip off, CLASSIC.
Mom talking to Macho Man Dale Earnhardt Savage.
Aunt/Uncle/Cousin/Jake
A few more photos of the stripper with the worst hips/ass/hips/ass game ever. I seriously can't explain it.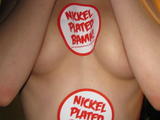 Overall, fun night. Homegirl that let me take her photos was worked in and had an awful grill, but she was cool. They both wore BAMA stickers the entire night. Found some new fans, and we rung in Kyle's birthday right. Happy birthday homie, thanks for having us, thanks for paying for the bitches, and thanks for the inspiration for a new post...
Stay tuned in the weeks to come, a new idea was born regarding craigslist booty calls, massage therapists, and "companions"...
-Ollie