A.K.A. Reno. The story begins Friday at 12:30 p.m. Being as how our scheduled departure time was 12:00, I began this journey just like any other ive ever been on with the ball and chain, LATE and ANNOYED. Fuck it, we're bouncin' get over it. We didnt make it more than 45 minutes before the old lady was hungry so we stopped for the greatest fast food available on the west coast:
Double Double with Fries from In-N-Out. This is the business. For all of you folks that live East of the Nevada state lines, do yourselves a favor and get over to California and get yourself a danky double.
Anyways, so we get back in the car, I can't keep my eyes open for some reason so the ball and chain (a.k.a. my girlfriend who from hereon out will be refered to as TBC)takes over at the wheel. After lunch, it was a fairly uneventful drive. We forgot every CD and the Ipods so we were stuck listening to:
George Michael
R.E.M.
The Best of CREAM
And a slew of other crap CD's and even worse radio stations.
Now, my dad lives in the Carson City (NV) area, and we decided to stop off and have dinner with him and ultimately ended up sleeping there.
The next morning (Saturday) we woke up in a panic thinkin' that we had to be in Reno by 10:00 a.m. for Brunch with TBC's family. This, my friends, was not the case. So here I am, 10:00 a.m. on a Saturday morning with nothing better to do, so i decided to take some medication (Norco and Soma) and proceeded to see the sights while there was still daylight.
We hit the streets and stopped by this river for a photoshoot: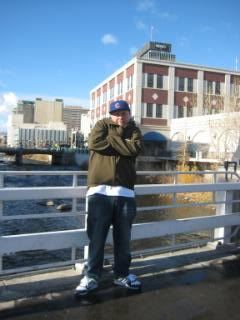 Certified since '92.
Damn, she's bad.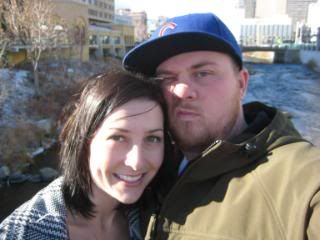 Ollie doesnt smile.
Mashed off to the other side of the building to get some shots of the hotel we were staying at:
Nice Spot.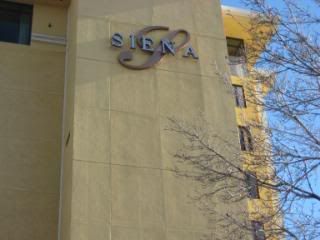 The Siena was predetermined as our destination as Grandma (90 years old) calls the shots. I actually prefer the Circus Circus when I'm in Reno... but fuggit, the price was right. We bumped into the world famous sign:
She wants to be a model...
Went to buy a gun at the pawn shop but all they had was busted Gold from all the degenerate gamblers on the block:
She wasn't happy about the photo, but then i told her "you ain't know bout Nickelplatedbama? you'za bout to be famous girl!" She changed her mind and posed under that sign. "In god we trust, all other's must pay cash". CHURCH!!!
So after i couldnt find a gun, we stepped back to the skreets. Bumped into a simple lookin muhfucka who turned out to be this guy: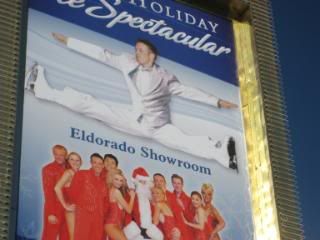 No Thanks! Kept it movin and went to my favorite casino in Reno: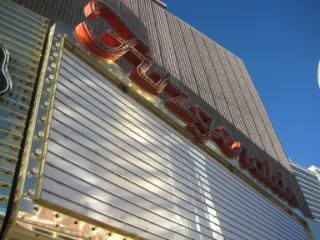 And this sign was on the door:
"Were now closed, Good Luck" thanks Fitz. They used to have a great Irish pub in there. So i had to step on down the street to my second favorite establishment, The Circus. Looked at the watch, it was 10:20 a.m. What better time than now to get a Samuel Adams and get this shit blazin? Before anything else could happen i decided to lay $100.00 on Memphis (+6) against Georgetown. Seemed like a cake-walk, had it locked up too, then Memphis somehow takes it to overtime. Georgetown is up by 4 with 23 seconds to go, Memphis has the ball, gets stolen, Georgetown puts up a layup. G'town now up 6 with 13 seconds to go. Jesus Memphis, just take the ball down court, get a quick bucket... NOPE! Memphis turns the ball over again and G'Town throws up a prayer from half court that sinks and Memphis loses by 9. Jeezus I fuckin hate college basketball. Anyways, we get some drinks and mosey on through the Silver Legacy and look up about 15 stories to see this crazy skydome advertisement: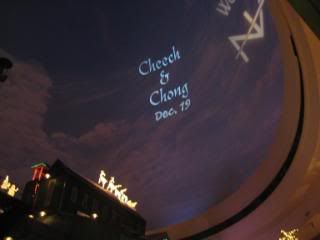 Yeah, Cheech and Chong are back together and performing in Reno the weekend after im there. MotherFucker. Need another drink. At this point i stepped back to the skreets to find the "wish we had a harley" Honda Shadow Parade mashing down Virginia Street:
Turns out these fuckers were the ones hammered drunk in santa suits mashin through the lobby of Harrah's at 2:00 a.m. that i wasn't able to get a photo of (more on that later). Anyways, I want to play poker, it's right about noon, so I send TBC packin' and we walk back to Harrah's, she goes back to the room for sleep. In route to the table i see this guy:
yeah, thats O.G. 1992 Fila jumpsuit poppin off right thea. Asked homie where he found it and he said "Ive had it for about 20 years now". Shit still looks pristine condition. I jumped on the escalator and this crazy asian broad is in front of me... Had to be sneaky with the photo (no flash) cause she didnt want me to take her photo...
What you can't really see from the photo is that homegirl was rockin checkered leggings with bright orange crocs (awful fuckin shoes btw) grey sweat shorts (cut-offs) and a skin tight ed hardy thermal. "You no take picture". The joke's on you Bitch. I finally get back to the poker room to try and recoop some of the losses i just took on that hideous performance by Memphis. I sit down at a $1.00/$2.00 no-limit game. I get sandwiched between this maniac Canadian that is obsessed with hockey, and an old man named "Tex" that is totin around an oxygen machine. Immediately to the canucks left is the worlds biggest shithead, a fella by the name of "Bart". I ask Bart if i can take his photo, he says "why" i say "because i like that hat and ponytail combination", Bart says "no pictures, just play the game".
I then asked Bart "Do you know what all pony-tail's have in common?"
Bart: "No, what?"
Oliver Wrist: "They're all attached to a horses ass.. LOL"
The whole table chuckles and for some reason the dealer finds this to be the funniest thing he has ever heard in his life and cant stop laughing for a solid 2 minutes. Bart decides that he has had enough and picks up from the table. The Canuck gives me a little elbow and informs me that i just pissed off the biggest fish at the table and everyone is now pissed at Ollie cause Bart had apparently donated upwards of $500.00 in his 2 hours at the table. I laugh and let the Canuck know that he (the Canuck) is now the biggest fish at the table.
**Side note** The Canuck's wife was also in the poker room playing at a different table and every time one of them would win a pot they would stand up and announce it to their significant other. The Wife, by the way, was definitely a 9. Youre not familiar with Ollie's rating scale? Well, when i say she is a 9, i mean that it would take no less than 9 drinks for Ollie to smash those.
Its now 5:00 p.m. Ollie has consumed somewhere along the lines of 7-8 Samuel Adams since sitting down at this table 4 hours ago, its time to go have dinner with Grandma. We get to the suite and Grandma is already sauced:
Perfect, at least im not the only one. I show up in a plain white T (standard gear for Ollie, ask anyone who knows me) everyone else is in button downs and evening wear. Oh well, im used to this type of thing. Dinner is excellent and is immediately followed by a performance from all of the family members. I was not prepared for this at all. When i say "all of the family members" I mean just that, everyone except for me and TBC play an instrument.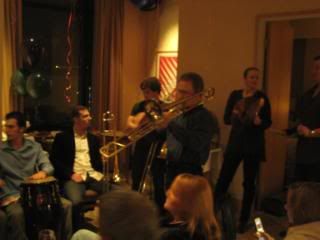 Then, TBC's brothers and cousins put on an impromptu 3 man beatbox/helium voice freestyle singing session. (Video coming soon). I take it upon myself to call everyone down for a rousing game of craps. I step to the table solo and buy $40.00 in chips, and start gettin busy. Im all over the place, cleanin house. I run my $40.00 up to $350.00 in about 25 minutes. TBC's cousin #4 steps to the table and rolls 5 straight sixes while Young Ollie is betting the field. Lose every dime i just made, ask the dealer for a refund and he says: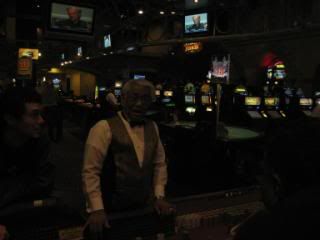 (no refund heyah, maybe you shourd rearn to pray craps"
"Fuck you, im out"
Step back over to harrahs, where apparently after 11:00 p.m. all the blackjack dealers moonlight as go-go dancers. These bitches were dealing cards in black booty shorts and blue sports bras. Ollie, being the pervert that i am, was obviously intrigued. I stepped to these hoes and asked if i could take some photos. They said "No", to which my obligatory drunken reply was "Bitch do you even know who I am". Apparently they werent familiar with the BAMA. Well, one of those tricks got up on this stage (when i say stage imagine a 2 foot tall work bench) and began doin her best white girl booty shake. There was a tip jar, and considering that A) I was drunk, and B) they wouldnt let me take their photos, I just went ahead and threw about 38 cents worth of change at that bitch and her tip jar. The bouncer/pit boss didnt like that so i was asked very sternly to leave.
Oliver Wrist: "Do you know how much money i spend here?" (at that point it couldnt have been more than approx $35.00)
Roided out dick-bag: "Not enough to allow you to throw things at our girls"
Oliver Wrist: "Thats why Reno sucks, call me a cab, I'm going to Vegas"
Roided out dick-bag: "Have a nice night sir."
Oliver Wrist: "Fuck you and the Silver Legacy" (I was at Harrah's).
After wondering aimlessly through Reno, I finally make my way back to the Siena (my weekend digs) and run into TBC. Apparently, she had mixed it up a bit with an Amazon bitch while I was roamin' the streets.
**Side Note** TBC Vs. The Amazon Bitch went a little something like this according to several eyewitnesses.
TBC: "give me back the hat"
TAB: "No"
TBC: (Reaches to pull hat from her head with no success)
TAB: "NO!"
Cousin #3: (Runs over and snatches the hat)
TBC: "Thats right you Fucking Bitch".
(I fuckin love TBC. Shes a rider.)
Now back to the story. It's now approximately 2:00 a.m. I go to the Cafe after meeting up with TBC and Brother #1 (who is only 18 but crashed the craps tables and bars like a 30 year veteran, NUFF RESPEK) and run into this lady:
I order an Extra Large Pepperoni and Sausage from her, and she asks why im taking photos with this lady: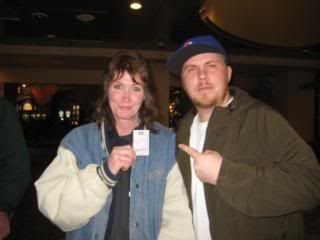 I tell them my name is Oliver Wrist and I'm a huge internet celebrity and they are lucky to be taking photos with me. Well, apparently white lady didn't believe me and decided to tell security that i was getting out of line at the Cafe. So this tool-belt shows up: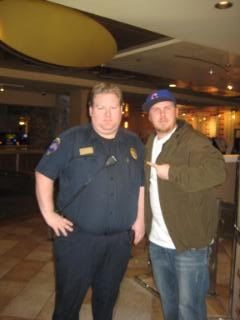 I convince him that I am indeed a huge internet celebrity and everything at the hotel is comped for me and my peoples. He thanks me for taking his photo and moves on.
3:30 a.m. After consuming an extra-large pizza, I decide to rack out after what had been a really long day of drinking. I don't like to be one of these jerk-off token white kids that counts my drinks and gives a report, lets just say I had more than any normal person would drink in the course of a week/weekend.
We wake up way too early that morning, my head is absolutely on fire, we look outside and see that its a beautiful day: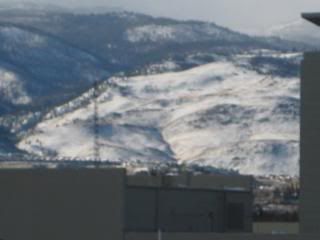 (View from my hotel room) I start getting excited that its going to be a nice mellow drive home through the mountains.
We go downstairs to a beautiful breakfast buffet that I am too hungover to enjoy, didnt have the camera so I didnt have any chance to take any photos of the goodbyes or the fit of rage Ollie experienced as the Chargers were losing when we stepped out the doors on our way to head back to Cali.
We get in the car and depart Reno at approx 12:30 p.m. Ten miles down the road the sign reads "Chains Required". Fuck Chains. I'm a seasoned vet in the snow. We get stuck in a traffic jam that takes us literally 2 and a half hours to move 4 miles. Snapped a couple photos of the blizzard coming in. The photos do no justice:
On the rouute home i see 2 accidents happen in front of me, and then another 4-5 accidents have taken place within 5 miles of the ones i witnessed. Needless to say, driving conditions were awful.
Its now 5:30 and we have only gone maybe 65-80 miles and the snow has not even begun to let up:
Finally pull in the driveway to the homefront after fighting rain, sleet, hail, snow, fog and every other form of bad driving weather known to man, at approx. 10:30 p.m.
For the record, Reno is NO MORE than a 6 hour drive on a normal day. This adventure lasted a little longer than 10. Fuck winter.
-Ollie the conqueror