Case and Point: Angel Lola Luv. Weve all seen her in several rap videos. Homegirl's got some serious backyard and a great chest plate sittin on dubs.
The evidence: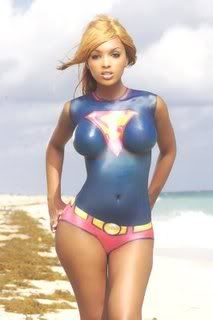 im likin' what i see, fake or not, them joints is sittin right. Homegirl is better known for her unreal backyard:
Thats a whole lotta back... Ive always been a fan of young Angel too. That is, until i stumbled onto this photo and damn near gagged: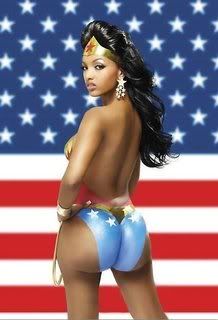 YUCK!! do you see whats going on here? The waist to ass to thigh to calf ratio is alllllll wrong. Good lord, just have a look at how skinny her legs are. That is absolutely terrible. Home girl needs to go back to the doctor that filled that tail up with silicone and have him/her shoot some juice up in them thighs and calves. I just cant stop staring at that picture, and for all the wrong reasons. Those are the definition of chicken legs and that shit is alarmingly disturbing. Besides, im a firm believer that ol' girl is only about a christmas dinner away from turning it into this: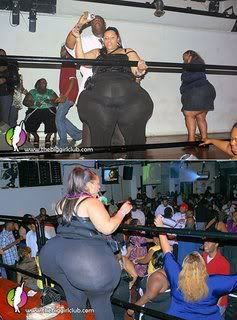 Whew, now thats just wrong. Can we please save this post with a picture of what a backyard is supposed to look like??
And the obligatory bikini joint...
Now you see that? Thats the triple threat. The hook and arch, the thigh, and the calf perfectly compliment eachother. Ladies take head.
-Ollie