I hinted at the trip a little earlier in the week, but i finally got around to uploading the photos to post with the story. Saturday night strolled up to Santa Cruz and met up with my old room mate, the Rudest of Rude...
The father and son. No Batti boy!
Thats the only photo I actually snapped on Saturday night. The plan was to get to bed early to avoid any chance of a hangover. When the homie pulled out a 12-pack of home-brewed stout, we got into it. The shit was thick as milk and darker than coffee. In the morning, we all got up and mashed to SF. 10:00 a.m. let the Coors Light start flowing. Our original tailgate posse:
Played a little football...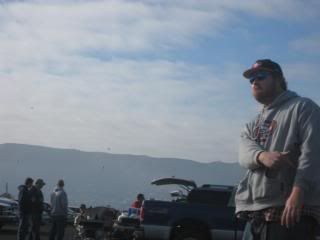 Drank a bunch of beers, and decided it was time to start wondering around to try and find good photo ops.
I get no more than 100 paces from the whip and spot this:
That's a female, in her 40's+, with a fully shaved dome piece and maroon died jheri curl fade. When I approached her to snap a front shot, she grilled me so hard that i backed down and had to sneak this photo from the back. I was fully intimidated by an old woman. Moving on, these cats were posted up a few cars away from us and the homie B wanted to catch a flick:
The interesting thing is that the kid holding the sign was a perpetrator of the "skin"tight sag.
11:30 a.m. drunkest of the day award goes to this cat:
He had both apron pockets filled with bottles of moonshine. CLASSIC.
The street merchants (a.k.a. bums) are pretty clever and willing to do most anything to make a buck. This cat was slanging 49ers merch, last week's programs, and candy all out the same cart. Had quite a racket going to, he was flossin his paper: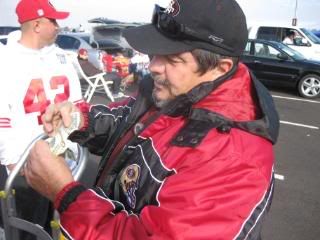 This cat got mad when I asked to take his photo, so I told him he couldnt take our cans... Took a photo anyways as he stormed off mad...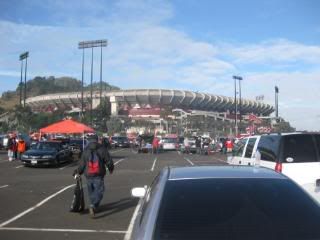 These next 2 cats were down, they were willing to battle for rights to our cans...
**Side Note** the homie B played stand in for about 75% of the photos taken on Sunday.
I told this guy he couldnt have the cans unless he posed for a flick, he asked if I wanted him to take his clothes off. I said just a nipple and a thumbs up would suffice. He laughed and then gave me "that look".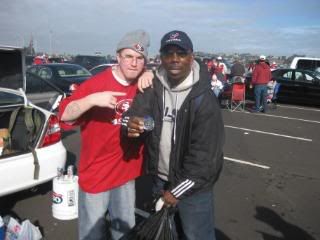 Apparently this hoe missed the memo about not wearing UGGS with your skirt, and the dude was turbo gay face extraordinaire..
My favorite outfit of the day...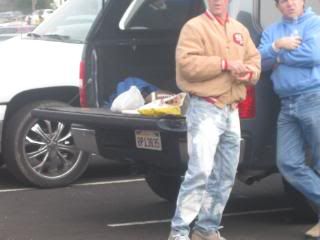 At first glance, it doesnt look like anything special. What the picture doesnt show very well is the SUPER acid washed jeans, and the coat. The coat was a knock-off carharrt that had iron-on SF emblems attached. What better way to complete an outfit but with MerVans... you know, the bootleg vans laced extra tight only available at Mervyn's...
It was time to venture away from the tail-gates (trunks) and mash to the stadium. Didnt feel like waiting in line for the escalator so we hoofed it to the very top section of the stadium. You know thats where the real O.G.'s are gonna be anyways. Ran into this cat who said he was from my hood:
He was down too. Let me stand in the walkway all day and snap shots of every maniac that walked through. This guy got a beer thrown on him but still kept it funky for his squad:
After I took this next photo I showed it to the dude in the cap and he said "Look at that guy who snuk up in the background, he could be a "that guy" on Collegehumor.com"
I told him I was more concerned with his buddies gay-face.
The piggies showed up to arrest some unruly fan... said fan was a 60 year old man who got pushed out of the bathroom line. I tried to take photos of the injustice but the swarm was too massive. I did happen to catch this Gem though...
Cheers to you too homie.
Saw this kid and had to get a snap...
His homie in the background was pissed that i didn't ask him to pose in the photo too.
She saw my beanie and said that it was dope. I said "I like your jersey can i take a picture with that guy hangin all over you"... Dude says "NO"... ok then, Ill just blast you on the site...
The photo is really doing this girl a huge favor. I captured her at the perfect angle cause she was not very attractive, but the Chargers jersey bumped her from a 4 to a 6.5 instantly. As for Juan in the background, he had the worst bowl cut i've seen in 10 years, hands down.
Saw this kids hat and had to know more about him...
It says J-Bone. Why? Well, do you know what this means? (makes hand into the 2 in the pink one in the stink formation), Sure I do. Well, they call it a Slick Ricky apparently, and him and his boys invented it.
HAHAHA. Got my perv on for a second when I saw homegirl in the brown...
Kept strollin around and came across these 2 cats. Only one would take a flick though. His homie told me he had warrants and couldnt risk being posted on the web. I said "show me yo' grill"...
He made me take 2 flicks and that is the one he prefered. I wasnt gonna argue. The thing is, I really wanted the photo of his homie. Dude was one of those asian/samoan cats with long hair and he had dies 2 bright red streaks through it, and his grill matched his hair flawlessly. Oh well.
Bumped into the homies and took a shot of the bay...
This guy was the coolest cat at the game, no arguement. It was 40 degrees and he was there in his tank top/cotton short 49ers outfit from 1994...
This cat had a Diplomats shirt on and the illest side burns this side of the mississippi...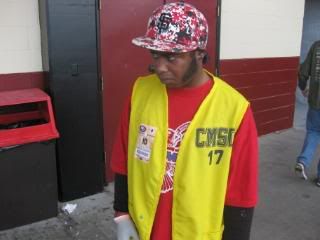 The look on his face tells the story of how excited he was about cleaning up trash at the game.
When I finally got back to my seat I realized I was in the midst of some of the 49ers biggest fans. First of all, it was hot in the sun. This dude never budged. I caught several candids of him doing his dance routine...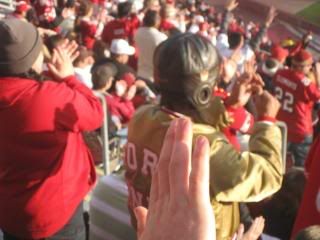 No, thats not the Y.M.C.A.
B tried to be slick and piss in a bottle right behind me...
BUSTED!!
The best photo I got all day was this mid-action "HELL YEAH"...
Game is now over, 49ers win 27-24 as time expires. Couldnt ask for a better finish.
So were walkin back to the whip and i start seein everybody in their costumes.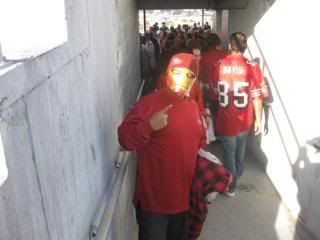 So were almost back to the car and I see this happening...
These cats are goin stewy on a couple of 60+ year old women. SAVAGES. I caught the very end of it, and for that I apologize, but just know I was rollin on the floor laughing. They even tried to holler at TBC and company and got denied...
HAHA. I had to chop it up with these cats though. Apparently they made this track called "ya'll aint ready for 49ers" and had been to every home game that year playing it and "giggin" on folks as they tried to leave the game. Obviously I asked for a photo op, this is what they gave me...
Then his homie mobbed over...
Nuck if you Buck foo!!
Almost to the car, see these little birds walkin around with a beer bong. They say they dont have any beer but would love to take a photo... I oblige of course...
We finally get out the gates after about a 45 minute traffic jam and of course drunk ass Ollie has to piss. We stop, I handle my biz, and start to feel the rumbles so I drunkenly sav up and drop the duece in the nastiest bathroom known in San Francisco...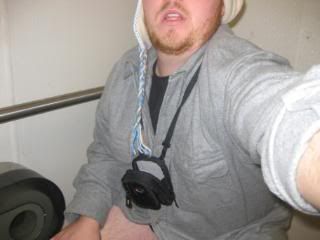 HAHA. Seriously, its not a good idea for me to have a camera.
This next and final photo explains the overall mood in the vehicle the rest of the ride home...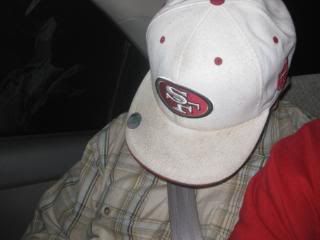 It was a blast. Big ups to everyone who did an interview and let me take their photo. Ollie found some new fans and thats always a good thing.
It is now New Years Eve, Im sick as a dog but Im gonna man up and go get ripped tonight. Depending on how the party/bar scenario plays out, I hope to have some solid flicks and another story for you Friday or Monday.
Until then slackers, get back to work.
-Ollie the traveler