It is well known and documented here at the BAMA that i have a unquenchable thirst for wild ass ice cold behavior. The harder you go on your hoe (Ike Turner) or the rest of the world for that matter, the more i'm going to like you and respect you. Thats not to say i condone beating up on your girlfriend and whathaveyou, but i do get a serious kick out of the pimperish behavior some of my favorite people display (see: Dolemite).
Now with that said, Mike Tyson is one of my all time favorites. He is just flat out uncontrollable. His handlers and managers cant even keep him in line. This man is literally the only person on this earth that doesnt have to do a single thing for the rest of his life to secure his place in my hall of fame, and keep his street cred in tact. He is as ice cold as they come.
Remember when Iron Mike was the baddest man on the planet and looked like this:
Then he went ahead and got the face tat and gold teef to certify his level of hoodness:
Well now my man Mike is lookin like this: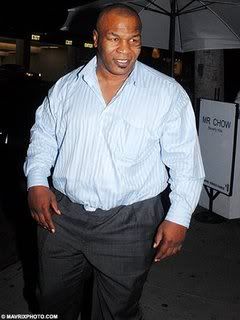 But don't for one second think that keeps Mike from choppin down the best of the C-grade white girls out there that are willin to give some cut to a convicted rapist.
the evidence?
exhibit A:
Exhibit B:
Exhibit C:
Apparently ol' Mike likes to get his swirl on with these white devil bitches. Oh well, I aint mad at Mike for that.
Anyways, moving on to the reason for this post
"Former heavyweight champion Mike Tyson has found himself back in news headlines, this time for impatiently ramming his vehicle into the visitor's gate of a private community in Las Vegas on Thanksgiving morning. According to local ABC news affiliates KTNV, the retired boxer pulled his late-model black Escalade up to the southern part of Valley at Monarch Estates at around 7:45 a.m. Thursday. "He went to the visitor's gate, but instead of driving through the gate when it opened, he veered off and hit the closed resident's gate," said Action News reporter Rikki Cheese. "Tyson reportedly backed up and ripped the gate down. Metro was called, and Tyson got a ticket." Las Vegas Police were called to investigate and gave him a breathalyzer test, which he passed. They then dismissed the entire incident as an accident and Tyson escaped with a fine before being allowed inside of the gated community to visit his friend, as reported by Eurweb.com."
The Iron Man took a page from the Ollie playbook rite chea. I hate to wait too. Fuck a gate holdin me back. LOL at the fact that he allegedly rammed the gate more than once. The best part of this whole story? They called it an accident, wrote him a ticket, and let him proceed into the gated community to visit his peoples. Damn son, Iron Mike is seriously wild.
Just for good measure, i found a video on youtube of a collection of Mike Tyson's best (or worst) quotes from the last 20 years.
"I wish you had children so i could kick 'em in the fuckin head and i could stomp on their testicles". Whoa Mike.
-Ollie the tyrant