This is easily my favorite bar in Vice City. The crowd is mellow, they have pool tables, and karaoke on Friday nights. Anyways, we hit the streets last Friday for some drinks with the folks and ran into some wild muhfuckas at the Pub..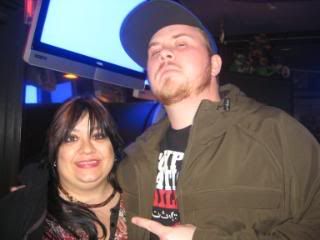 My favorite bouncer in the city. She has never id'd me in my 6+ years in attendance. I told her I was famous, she asked for a photo.
The homie beat a couple charges, stepped out for some drinkin. Hadn't seen my dude in like 3 years. Glad to have you back homie!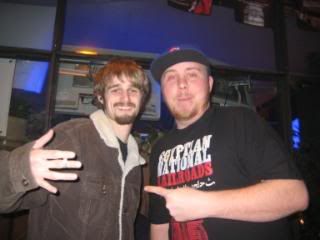 This cat has a crush on TBC and always forgets that TBC has a MANfriend.
The award for drunkest cat in the bar goes to this guy:
He introduced himself at least 6 times. After this photo was taken, i never saw him again. Perhaps the camera captured his soul...
TBC is worse than me when it comes to settin up photo ops for joke purposes. She said "hey get a picture of me with this guy" so i did...
I didnt think anything more of it. About 20 minutes later I walk past homie and he is tellin his boys "yo, that girl in the red jacket, i think she wants me"... I said "which red jacket", he points to TBC, I say "Oh, you mean my chick?".. "Thats your chick?" he says, "yeah, but you can have her if you can get her"... "no disrespect homie, sorry, lets take a picture"...
Its all peace. **Side Note** I told him and his buddies "no scissors", they didnt get what i meant so this is the photo i got:
Why do people insist on throwin peace signs for every photo op?
Anyways, this dude had all the classic Cowboys gear. Starter Satin jacket? check. O.G. Snapback cap? check.
Not pictured is the super official Cowboys championship belt buckle... I asked him how many pictures i should take of him: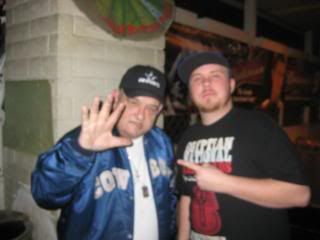 Five seemed reasonable, but he only gets 3 posted on the site. One more for good measure...
The "its not halloween but im still in costume" outfit of the night went to this guy:
He got real shifty when I asked to take his picture. "Why the fuck do you want to take my picture"... "why the fuck wouldnt I" I said. I guess it made sense cause this is the pose he gave me.
HAHA.
This cat is in the building every night, but especially on Friday to sing Karaoke. Im pretty sure he's tone-deaf, but it doesnt bother HIM a bit..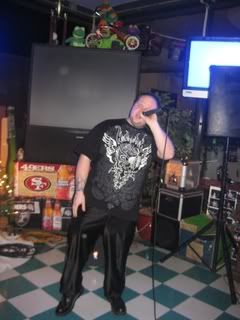 Doesnt seem to bother the ladies either:
TBC rocked shit on the Karaoke tip:
Some of her grade school chums showed up to toast the christmas holiday: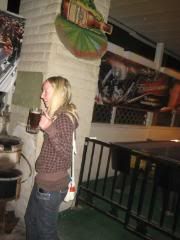 Both of these girls told me they dont drink beer. RIIIGGGGHHHHTTTT...
I found Skeletor hangin at the bar at last call. I asked her to buy me a drink and she showed me her snaggletooth:
I wasnt satisfied with that so we decided to make her drive us home 7 deep in her honda civic, she got pissed and told us to "calm you shit"...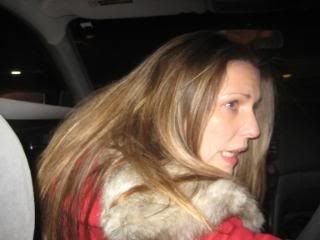 "Fuck You Bitch!" We made her come inside to hang out just in case she wanted to get naked. Instead she wasted our time posing for pictures and telling us her life story... She was 38, had 4 kids, and most importantly "doesnt have a single stretch mark"... Oh really? Prove it you dumb Bitch... Nope. Wasn't fallin for the trickery. I made her pose 2 more times then told her to get the fuck out, but to be sure to check the site cause she was going to be famous... she got excited and gave me these gems:
Woke up the next day with a full memory card so i couldn't snap any photos of the damage we had created in the house/garage. Pretty solid night...
-Ollie