since ive been able to pat myself on the back, but yes, your boy Ollie did indeed give you bastards 3 winners. In fact, I was 100% in college football. Just dont take my word in NFL cause i am something like 2 for 9.
Lets review the weekend.
Wake Forest vs. NAVY. Wake Forest gave your boy a scare, but i realized that the points scored by NAVY were a direct result from turnovers. Once Wake Forest got their shit tight, it was a wrap.
Arizona vs. BYU. This was an easy game for me, and the funny thing is, most people were on the other side riding BYU's ranking (#16) right into a loss. Ive said it before and i'll say it again. The Pac-10 is a debatable 2nd toughest division in college football. When you have to go up against the likes of Cal, Oregon, Arizona State, and USC every year, you know that youre gonna have a tough team. Counter that with a Conference USA team (BYU) whose best win this season was against a weak ass Air Force squad. The game was a cake walk, and thats where it ends.
Colorado State vs. Fresno State. What can I say? Its a bittersweet victory for me considering I know prolly 20 people personally that graduated from Fresno State, so going against my home college (the closest to my block) is a bit sac religious. However, I learned years ago from my father that using your heart, or rather having any sort of ties to a team and letting that affect your betting is a sure fire way to get beat on a regular basis. Fresno State has not been able to win the big games when they needed to this year, so it came as no surprise that Colorado was able to blast through that weak ass defensive line.
Other picks I had were South Florida over Memphis and Southern Mississippi over Troy.
*Side Note* I know it wasnt a big game for most people, but I got stuck watching the Southern Mississippi vs. Troy bowl game. Why? Well, for some ridiculous reason NBC lost its signal at my house so I couldnt watch the Giants make that great come back against the Panthers. 34-28, I can only imagine how great of a game it was.
Anyways, did anyone watch that Southern Miss game?? Sometime late in the first quarter this happened. **NOTE** Not for the faint of heart.
SNAP!!! Dude, thats a straight up chicken leg right there. It reminds me of this cat...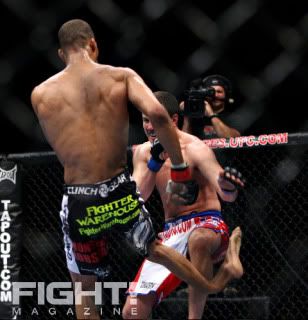 Thats Corey Hill from the UFC and that photo is not photoshopped. He completely destroyed the bones in that leg and turned it into rubber. Nasty Shit.
Anyways, to recap, Ollie is a College Football genius (5-0 in the bowl pick-em challenge thus far). Cats need to drink some more milk.
In NFL news, the Buffalo Bills finally did their job and beat the Broncos, which sets up a week 17 battle for the AFC west between my beloved San Diego Chargers and the bati boy Denver Broncos. Winner goes to the playoffs. Its actually kind of sickening that 8-8 is good enough to take a division.
AFC East is shaping up for a great finish this year.
Im going to go on record right now and say that the super bowl is going to be one of the following 4 scenarios.
Baltimore Ravens/Indianapolis Colts vs. New York Giants/Carolina Panthers. Winner? Ravens.
It hurts me to say it but I dont think my boys are going to make it to the big dance (given they even make it to the playoffs).