I have been up in the air recently as to whether or not I should come out publicly and declare my unbridled affection for all things Seth Rogen. This guy is a comedic genius. But not in the traditional sense. He's just a run of the mill, completely average dude that has taken his ability to crack jokes on his friends and turned it into a viable source of income. Shit, this guy is one of the biggest writers/actors in Hollywood right now.
Maybe I got ahead of myself. Maybe, some of you don't know him by name, just by characters he has played. This should sum it up... "The curly haired chubby guy from 'Knocked Up'"..
Got it? Good.
Anyway, I was thumbin around the nets this morning and came across the trailer for one of his new movies coming out in 2009.
"Observe and Report":
Tell me that trailer doesn't do at least 2 of the following 3 things:
1) It made you realize that Anna Fariss is whorishly hot and has a ridiculous chest plate.
2) You realized that Paul Blart: Mall Cop was unfairly pushed onto unsuspecting American's prematurely in an effort to claim originality and steal the thunder from Seth Rogen's masterpiece.
3) It made you wish that you had one tenth of the comedic timing and stage presence that Seth has.
This guy is great. I think that if I was in any way famous and had my choice of people/celebrities to hang out with, Seth Rogen, Paul Rudd, Jason Segal, and the rest of that crew of folks would be on top of the list, except for Jonah Hill...
Yeah the fat kid from Superbad. I feel like he's a real fuckin prick on some "I'm famous, you're not" bullshit. I want to give that kid a black eye.
And to take a step back here, I want to discuss Anna Fariss a little further. She realllllllllllllly fucking annoys me. I mean, like, BAD. She's loud, she blatantly overacts (yeah I know, it's all part of her schtick), her eyes are really wierd, she has made nothing but bad movies, but for some reason, this movie trailer made her seem very tolerable and downright sexy to me...
What the hell is going on with me? Am I really praising a skinny white blonde chick with no ass?? Somebody please run that photo to remind me of what really counts in this world...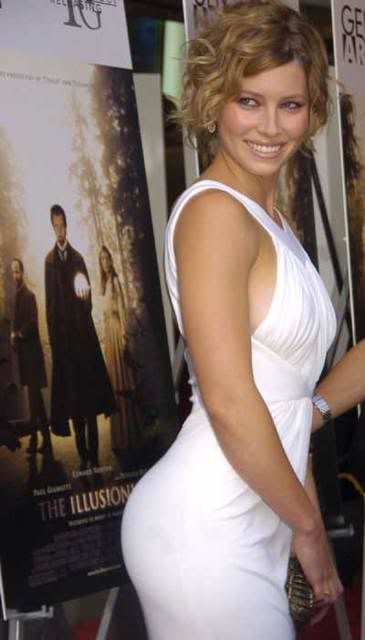 Ahhhh yes. Now were back.
-Ollie