This just in: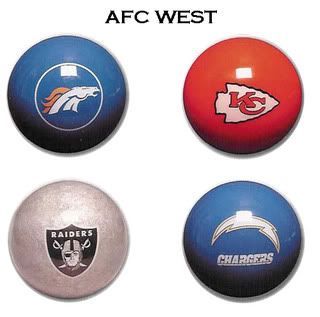 The AFC west is second only to the NFC west as the weakest division in football.
My beloved Chargers who were billed as the "team to beat" in the AFC this year are under .500 and lookin worse every game.
So as we often do, we went ahead and asked Norv
just what the fuck
his problem is: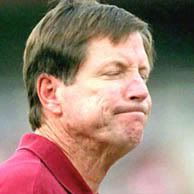 AS usual, he just looked the part of a damned fool.
Moving on...
Brett Favre looked like he was in a 1990's era Green Bay uniform this weekend when he absolutely demolished the punk ass Rams (NFC west stand up!)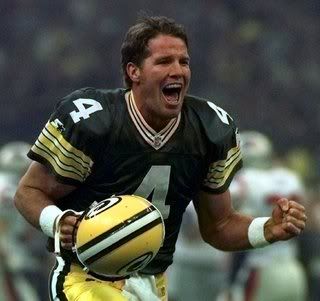 Is it just me or does Brett look like hes rockin the first edition of the invisalign franchise braces in this picture??
The Raiders laid an egg and went with Walters ova yo' boyie Jamarcus (what a name btw) and even though Delhomme tried to give the raiders the game by throwing something like 6 picks, the Raiders did as the Raiders do and choked themselves (Joe Rogan take heed).
***note, if you didnt get the reference to Joe Rogan and choking himself you need to do your research and click this link right
HERE
***
Tennessee is still undefeated, and with teams like Jacksonville, Detroit, Cleveland, and Houston coming up in the next 4 weeks, they can probably stay that way... Until they find out what Defense is really about and have to play Pittsburgh and Indianapolis respectively to finish the season.
***Isnt that just an awful photo??***
In college news, Texas Tech and Florida have unstoppable offenses, USC is not as great as everyone thought and should not even be mentioned in the national championship game discussion, Alabama squeaks by a mediocre (at best) LSU squad, and Penn State got beat by Iowa, yeah i said it, IOWA!!!
If i forgot to mention your team, its because they don't matter to me in any way, shape, or form...