First of all, let me make my last apology for 2009 right now. Yeah I said it, I will not apologize again to anyone for the rest of this year. Why you might ask? Well, to be completely honest, I dont feel that I will be wrong about anything, and secondly, if I am wrong, I don't care enough about you to apologize for it.
Back to the apology, Why? Well, when the holidays rolled around I really got lazy. I was not puttin in work the way I had promised you folks early on in the career of young Ollie. That shit is over with now. I am 100% back on my grind. I will be a posting machine, I will make the mixtape i promised, I will clown on more idiots than ever before, I will take more pictures to document the adventures of Ollie, I will post more bad bitches, and I will cheer for my teams like never before. That my friends, is a new years resolution. None of this "I will lose 10 pounds", or "I'll quit smoking" (already did that by the way) bombaclot bullshit, NickelPlatedBama is doing it bigger than cigarettes in 2009. Get down with the get down.
Speaking of cheering for my teams... The mighty Lightning Bolts (or as you may know them, the Chargers) took the M.V.P. havin ass Colts right out the playoffs.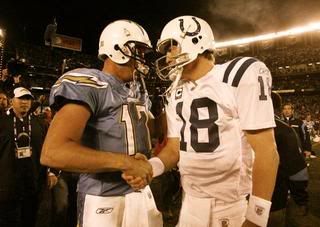 The score, 23-17 (overtime finish) is very, VERY misleading. Lets get it straight right now, the Chargers absolutely stomped the Colts. The defense was SHUT DOWN. Punting... well lets just say Mike Scifres earned an M.V.P. vote from me for his SPECTACULAR display of punting prowess on Saturday. Dude had like 5 punts that pinned the Colts inside their own 5 yard line. Do you realize how ill that is? The Chargers held the M.V.P. scoreless, and to less than 100 yards in the second half. Hell, if it wasnt for the one big pass to Reggie Wayne in the first half, the Colts wouldnt have scored more than 10 points all game.
Darren Sproles, the other M.V.P. of Saturday night's game walked all over the Colts defense...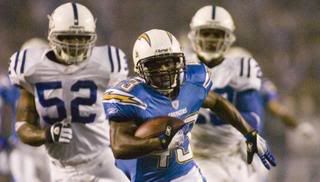 Bob Sanders was seein a whole lot of the back of Big D's jersey that night.
Phillip Rivers showed up and played a mediocre game, but showed some serious heart when he tucked the ball for a run on a long 3rd and 9...
In fact, this game never should have went to overtime. If it wasn't for a goal line fumble by game M.V.P. Darren Sproles, the Lightning Bolt Hopeful wouldn't have had a worry in the world.
Moral of the story? The Chargers are, without a doubt, the hottest team in the NFL right now. The defense is coming on strong, the running game with Sproles, Hester, and occasionally Tomlinson is stronger than ever. We have the ability to run the table here. Next stop, Pittsburgh. Big Ben is gonna get what hes got coming and things are only lookin up from here.
In other NFL news I was 3/4 on my picks this weekend. I thought Atlanta should have creamed Arizona, but what can I say? Rookie quarterback meet Veteran.
Predictions for divisional round playoffs...
Arizona loses to Carolina.
The Eagles get mopped by a resurging New York Giants team.
The Chargers do what they do and whoop that ass in Pittsburgh.
Baltimore pulls out an upset against the Titans.
-Ollie is back