So I was at the local Save Mart this afternoon to pick up a little lunch. I'm walking up to the express lane with my bag of chips and soda (2 items), when this fuckin maggot starts speed walking to get in front of me. I think nothing of it, and kindly take my place behind him in line. It was only when he started to empty out his cart that I noticed that not only did this jack-off just cut in front of me, but he was also over the limit of items allowed in the express check out line. Strikes 1 and 2 right there. I counted 19 items. THEN, even though it is written in plain english AND spanish on the fucking register that express line is reserved for Cash or ATM only, this scum-bag has the nerve to pull out his check book. GRRRRRRRRRR. When the young lady at the register let him know that checks werent allowed, he went for the credit card and explained that he didnt have any cash. This is when I lost my shit.
Our conversation went like this:
Ollie - "You have got to be fuckin' kiddin' me",
Scum-bag - "huh?".
Ollie - "you damn near broke your hip speed walkin to cut in front of me, you are over the allowed limit of items, and you are paying by credit card, you don't see a problem here?"
Scum-bag - (Turning away) "Oh sorry bout that..."
Ollie - "You did notice that I only have these 2 items and cash in my hand right?"
Scum-bag - "Yeah, but I'm in a hurry.."
Ollie - "Alot of good rushing did you, now
I
get to wait for
YOU
"
Scum-bag - "Can I just have plastic please?"
The confrontation ended there. When I stepped up to pay for my shit, the lady at the register was giggling like a school girl. I asked what was funny and she said "most people wouldn't have said anything, you really made him unconfortable." "Good" I said, and walked out.
When I got outside I look across the parking lot (searchin' for scum-bag) and catch a glimpse of this: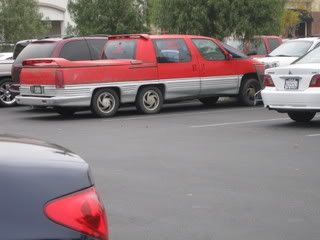 I had to drive around to double check what I was seeing, but yes, all suspicions were confirmed, that is indeed a truck bed welded to the back of a pontiac van with 6 tires. Thats what I call mexican ingenuity or mexicanuity if you will. HAHA.
-Ollie the Confrontationalist