As I stated yesterday, I am a huge fan of the first 2-3 weeks of American Idol. Why? Because its the only "reality" show that is actually reality on television. Anyways, the only part I like is when these cats get on there actin a fool thinkin they can sang, and then get shut down by the judges. It is pure comedy to see people's dreams get crushed, but seriously, why would anyone set themselves up for such a terrible fall? Thats what happens when you surround yourself with "yes men". I'm going to offer my services, free of charge, to anyone who needs an opinion on whether they are good enough to rap, sing, dance, whatever. I will kick it to you real, not like your cupcake ass friends and parents who sugarcoat the shit and encourage you to make a damn fool of yourself on national television. I aint mad at ya though, your pain is pure comedy and i have no issues laughing at your collective misfortunes.
A couple of my favorites from last night...
X-Ray:
I was rollin when this cat first started. He jumped straight into that jelly leg dance routine. Then he hit 'em with that extra firm "ohhhhewwwohhhh oh oh oh" thinkin he was super official. He gets the "GONG!" but decides it ain't ova. I almost choked when he started singin' again while Simon was tellin him to kick rocks. LOL at the security escorting him out. Some people...
Then there was "Bikini Girl" and I think its fairly obvious why shes gettin some shine today...
I give her props for havin the brass to show up in a bikini. In fact, I think it was quite genius. The thing about it is, she has no chest piece, and while the backyard was smooth, it had no tuck. It was mediocre at best, and as we all know, that doesn't cut it around here. I do like the fiestiness she displayed when she went in on the new judge Kara. I was laughin super hard when Kara decided to show her how she was supposed to sing. I get the feeling she was waiting for an opening to display her vocal prowess. Simon kicks it to her real too, I agree with Katrina "your demonstration wasn't any better". HAHA. Get 'em Simon.
Speaking of Kara Dioguardi, I can't decide if she's hot or not. I mean she's definitely a step up from Paula, but is she bringin any heat? To the drawing board we go...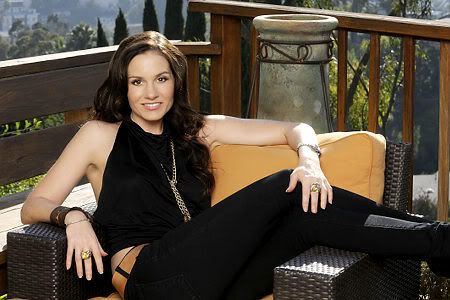 Verdict: Insufficient Evidence. We will continue to assess the evidence as more becomes available, until then though, we'll be checkin for "bikini girl".
One more for good measure, this dude right here is straight WILD...
Im speechless, and that, loyal readers, is quite rare.
-Ollie the reality junkie