Thats right folks, the greatest base stealer of all time, Rickey Henderson got inducted into the Hall Of Fame. This comes as no surprise to anyone. Rickey was a guaranteed first ballot since like 1991. The best part? This fool still plays baseball for a AAA team down in San Diego.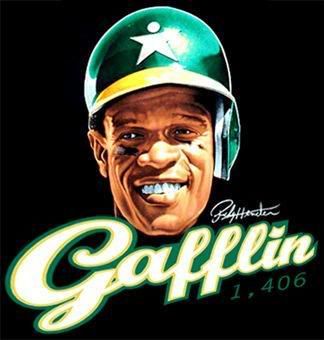 The homie Sam from
FTK Construction
put together that little Gem in honor of Rickey's legacy.
Anyways, if you're not familiar with the sheer hillarity that is/was Rickey Henderson you should get familiar. Rickey was known for his narcissism and third party references to himself. Below are a few choice stunts/quotes from the "top 25 Rickey Henderson quotes of all time". The list in its entirety can be found by
CLICKING HERE
.
---------------------------------------------------------------------
To this day and dating back 25 years, before every game he plays, Henderson stands completely naked in front of a full length locker room mirror and says, "Ricky's the best," for several minutes.
Rickey was pulled over by a San Diego police officer for speeding. As the officer was approaching Rickey's car, the window went down a few inches and a folded $100 bill emerged. The officer let Rickey and his money head home without a ticket.
Rickey was asked if he had the Garth Brooks album with Friends in Low Places and Henderson said, "Rickey doesn't have albums. Rickey has CDs."
Henderson broke Ty Cobb's career record for runs scored with a home run. After taking his usual 45 seconds or so around the bases, Rickey slid into home plate.
Rickey called San Diego GM Kevin Towers and left the following message: "This is Rickey calling on behalf of Rickey. Rickey wants to play baseball."
--------------------------------------------------------------
Man Rickey was a goon off the field, but on the field, his base stealing abilities will prolly never be seen again. Congrats and muck Respek due and payable to the one and only Rickey Henderson.
-Ollie