If you missed them, be sure to read
DAY ONE
and
DAY TWO
.
Saturday morning:
The weather was much nicer: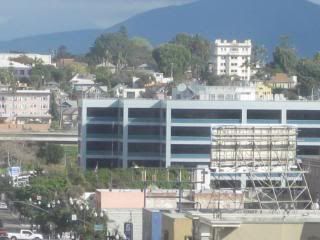 Got up and loaded all the photos to the comp, uploaded the videos, jacked all of Sam's music files and chewed up a bunch of vicodin. Sam slept all day, and when we finally got out of the hotel, both of the shows were over. Never had a chance to get my print from Zerofriends. Oh well, I have since talked to Sean, and everything is on the square.
We were both a little hungover, so we hit Fuddrucker's again. Decided it was time to get it crackin, and started hittin the 'tron. Before we left the hotel room, I had consumed a 6 pack of Rolling Rock, and 3-5 shots of Patron. Feelin good.
Were walkin down the street and I start catchin gems left and right:
Can you say scraper??
Just another Saturday night in the streets...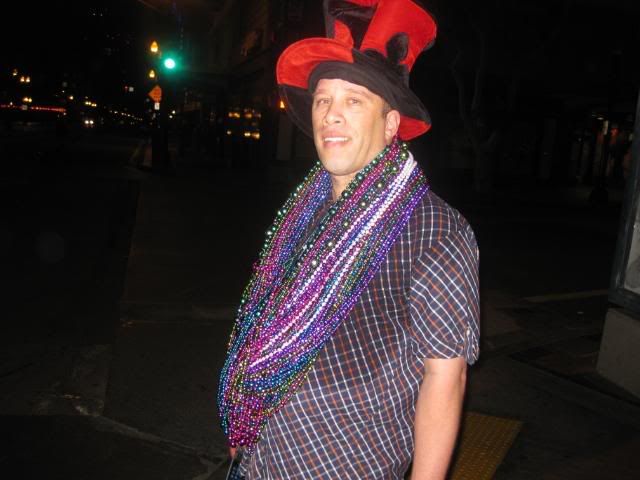 Not only does this cat look like the guy who played "buffalo bob" in the "Joe Dirt" movie, but he was also sweating an INSANE amount. Peep the ring of sweat under those beads. And that hat? Damn homey. just damn.
These birds were posin for a picture for a different camera, but ol' girl on the far left is still staring at me. She asked me what the photo was for, I gave her a sticker and said "check the site, mine will come out better, I'm a professional". She giggled and smiled. Ollie, still a mack.
Fantasia?? HAHA. nah. The bad kind of thickness.
We roamed the streets, talked shit, ate dinner, got drunk, went to sleep.
Sunday Morning:
I got up early again and decided to hit the streets solo. Took some photos:
View from the corner across from the hotel.
No bloodclot batti bwoys.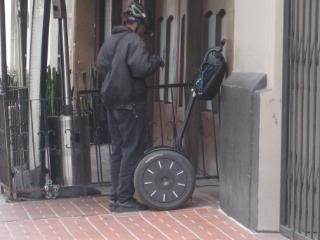 The meter maids in San Diego ride around on Segways. What recession? I asked her how she felt about the segway and she told me "it backs itself into my shins alot". Interesting.
Street vendor with the vintage children's jump off. Didn't have my size though.
This bird had the dope backyard. Couldn't catch up to her to ask how many lunges/squats she does a day.
Heaven??
Nope, just a filthy porno store. I bought a couple new pieces.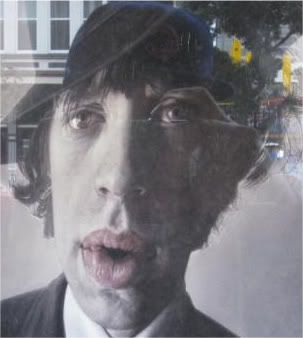 Mick Jagger X Chicago Cubs X Oliver Wrist finger around eye. If that doesn't make sense, good. I hate when cats use the "item X item" description of two brands working together. Basically, I'm not sure if the computer is doing justice to this photo or not, but this was a painting of Mick Jagger. I snapped the photo and my reflection left it looking like Mick is wearing a cubs cap, and my finger is wrapped around his eye.
Thats the basic idea of what popped in San Diego. The economy being in the shits definitely showed as the shows weren't nearly as big as they have been in the past. Hopefully I can come up with enough money, and time off work, and passes into Magic to be able to get out to vegas for another streetwear massacre.
Peace to Sam for driving, and the badge, and the patron, and everything else.
Peace to TBC (the ball and chain/girlfriend) for being dope and not sweatin me for being a jack-ass.
Peace to anybody who was cool.
Fuck You to Mason and the goons from cardboard robot, your ideas are tired and the quality is wiggity wack.
OH YEAH!!!!!
Be sure to listen to alot more Draftklick. These cats are wild as fuck and extra mainy like Kevin Delaney. Peep
DRAFTKLICK HERE
.
-Ollie the traveler