Oh boy! Yes, these guys have their own show now.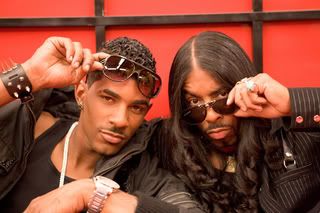 Aside from the fact that this show is ridiculously scripted, overly acted, and a complete carbon copy of Flavor of Love, I love New York, and Rock of Love, I still can't get enough. Maybe it's Real's Weave or Chance's over-the-top asshole behavoir, but this show really is captivating.
So, in week one, the guys were given 17 girls to choose from (a breakdown of all the hoes..errr... contestants can be found by
CLICKING HERE
).
The guys ended up X-ing out:
1. Stalker - she was wild yo, for real
CLICK HERE
to see some of the videos of her wild'n out on youtube.
2. Isha - she was cute, but her real name is willesha, as in her parents though it was going to be a boy and had their hearts set on william. But ol' girl never gave herself a chance. She played the background and didn't step to either one of these cat-ass fools. The funniest thing was that she started crying hysterically when she wasnt picked after only knowing these cats for like 3 hours.
3. Harmony - Basically Chance called her a skunk because homegirls breath was kickin, unfortunate cause i saw her being a potential catalyst for lunacy in the house.
The way it breaks down is Chance gets to pick 7 hoes for his stable, and Real gets to pick 7 hoes for his stable.
side note: each of the brothers has a catch phrase... "Are you ready to keep it real with me" and "Are you willing to take a chance on a guy like me" respectively.
Episode 1 highlights.
-"Lusty" proves herself to be a complete psychopath by constantly talking to herself.
-"Stalker" acks a fool and gives Chance a "flavor of love" clock, Chance goes hard.
-"So hood" is a straight freak, no question. We've already seen the panties.
-"Bubbles" is a dead ringer for Rosie Perez with her high pitched terribly fake accent.
-"KO" (see: the one who looks pregnant) is a female boxer.
-"MILF" is a 40 year old mother and a straight freak.
Episode 2 recap.
The guys put on a corny ass "Stallionaire town fair" in which each girl has to man a booth and charge tickets for whatever it is they are selling (see: that ass). The two girls who get the most tickets from Chance/Real get to go on a special date with the fellas (a trip to the recording studio). When it comes down to elimination, all girls are up for grabs again (basically the guys can trade hoes, I LOVE THIS CONCEPT).
highlights:
-Chance lets it be known he isnt feelin "Meatball" when he throws her tickets on the ground during the carnival. So, so icey.
-
-Real cock blocks Chance and steals "Promo" (who believe it or not is packin a little heat in the backyard.
-Chance tries to block Real, but "Sexy Legs" doesnt bite, so Chance fully lies and says that the bitch came in his room and layed out "spread eagle" for him. THIS MUHFUCKA!!!
-Chance tries to steal Milf, she refuses to join his team. HAHA.
-Cali strips down to lingerie and is surprisingly well put together.
-Sexy Legs gets the axe.
-We get introduced to the third Stallionaire "Micah", the youngest of the 3 brothers. Fool looks exactly like chance, but has a god awful weave on top.
Can I also say this, the brother's stylist is god awful. Real is constantly rockin these red boots, and the dudes stay dipped in leather with corny ass "LL Cool J's Exclusive sears line" t-shirts and all-over print hoodies and skull/bones trucker caps.
My early prediction is that Rabbit, Corn Fed, So Hood, and KiKi are the final 4. We'll see how the show plays out.