Now, I know that most people revel in the fact that athletes, musicians, and celebrities are shaping our world and being added to lists of influential people, but can we please get real here?? I started this rant last week, but due to a severe sinus infection, i was unwilling to add any more pressure to my head by continuing with the list of "the worlds top 49 most influential men in the world" as compiled by Askmen.com until i was physically capable of accepting the head trauma that stems from the rage i feel when reviewing this list.
I digress. #'s 49-39 have already been bashed and can be found
HERE
#38 Jacquez Herzog
Aside from the fact that he looks like a definite candidate for AIDS, i got no problem with his spot on the list. He's some Euro architect, and makes pretty dope buildings from what ive seen. Google him and see for yourself... If you care..
#37 J.J. Abrams
Is it just me or is this guy a cross between this guy: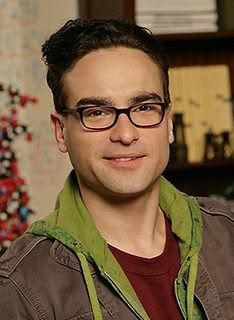 Johnny Galecki (pussy ass David, Darlene's boyfriend on Roseanne) and this guy:
(that annoying Verizon Wireless guy)..
Anyways, aside from his uncanny resemblance to these two annoying Z-listers I aint mad at J.J. for making this list. He is changing up T.V. as the creator of LOST, a show I admit I have never watched, but have heard nothing but good things. In my defense, I watch way too much celebreality/sportscenter to be able to add LOST to my must-see list.
#36 Andrew Farrah
WHO?? exactly, but he's a really big deal. This is the guy behind the development of Chevrolet's new plug in electric car slated for release sometime in 2010. I'm down with this pick but seriously, Developing a fully electric vehicle should win Nobel prizes but he gets the #36 spot on influential men's listing, sharing the 30's with Rafael Nadal and David Beckham... ARE YOU FUCKING KIDDING...
#35 Sam Houser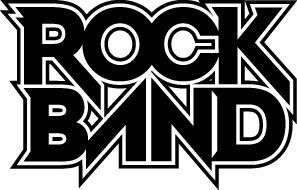 Yeah, he's the developer of the video game series Rock Band. Video Games are a big deal to alot of people, but i seriously have no use for any video game outside of Madden 2006 period. This series of games allows the less-than-musically-inclined crowd a chance to be the rockstar they always wanted to be in the comfort of their own home, further helping the cause of social phobia. Jeezus Christ.
#34 Tiesto
With a name like Tiesto and a gaze like that you gotta know homie is playin for the pink team despite the fact that he's engaged to this fine piece:
So, basically he's a really huge DJ over in Europe known for his 4 hour spin sessions. Who gives a fuck?? Granted, thats a long time to spin for anyone, but when you're ridin the white horse and Etarded, the time just flys. As for me, I have never been into house/trip hop/rave/techno/acid jazz or any other form of that garbage ass music hes spinning, but its big in the gamer world, so i guess those internet nerds are the majority of voters for this list.
#33 Brad Pitt
Exactly why is he on this list?? 5 years ago he was the man. Why you ask? He was ice cold on Aniston (who is completely looney since he left, a definite sign of his ice cold pimperishness), He wasn't a philanthropic environmentally adopt-happy hot mess of celebrity. I'll tell you this, Angelina Jolie was bad about 8-10 years ago (see: Gia) and she could have called the shots in the relationship with anyone then, but now she is straight used up. Need I remind you 'dis bitch used to wear a vile of Billy Bob Thornton's blood around her neck? Damn Brad, you gotta step yo game up homie. You're Brad Pitt, you could literally put the screws to ANY woman on the planet and you want to take looney ass Angelina? Well anyways i guess he makes the list because he does so much good for this world... HAHAHA. Truly believing in a cause and being led around by the nose are 2 completely different things and Brad, im sorry to report, is a subject of the latter.
#32 Harvey Levin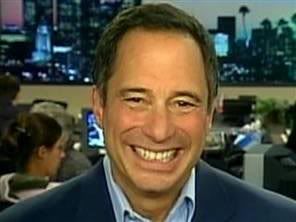 No doubt this guy influences pop culture and is highly deserving of his spot on the list. He is the developer of TMZ.com and TMZ tv. If you arent familiar with TMZ, you must have been been in a coma for the last several years. TMZ is basically the biggest collection of paparazzi's on the planet and they are in full effect everyday. They really work hard to bring us our celebrity news.
#31 Judd Apatow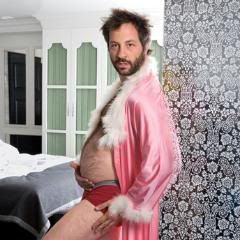 Judd is the prducer/director of some of the funniest movies in the last 4 years. His catalog includes 40 year old virgin, Superbad, Knocked Up, Forgetting Sarah Marshall and PLENTY of other great raunchy comedies. He is personally responsible for making Seth Rogan relevant (thank you for that by the way, Seth is funny as hell).
#30 Rafael Nadal
WHAT?!? Dude plays tennis, THATS IT! OK, hes really dominant in tennis, he basically owns Roger Federer, but other than that, I cant even say that ive ever even heard him speak. How in the fuck is he on this list, and not only that but higher on the list than Andrew Farrah (for those of you who are prone to use of the greenery thus forgetful, he's the developer of Chevy's electric vehicle). Dude constantly rocks a bandana, has greeeeeezy ass hurr (see: hair) and wheres ultra long shorts in a sport that requires complete mobility of the legs. I dunno about you, but this sickens me.
#29 Junot Diaz
WHO?? yeah, my sentiments exactly. He's an author with a New York Times' bestseller. Great. The majority of people in this new techno-crazed world do their reading online now, so you have to sell something like 10,000 copies to become a bestseller. That shits weak
#28 Arnold Schwarzenegger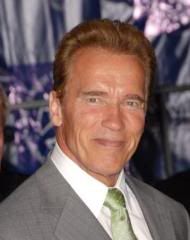 Really? why? Lets get this straight right now, Arnold does NOTHING as the governor of California. NOTHING. he is told by advisors and economy experts and speech writers what to do, say, make, think, etc. Im not entirely convince Arnie isn't a robot. I mean, peep that speech patern.. Ya'll saw Terminator right?? LOL. jokes.
#27 Liu Peng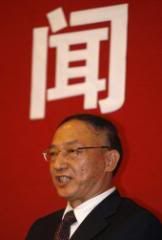 Liu was/is the chairman of the 2008 Olympic games in Beijing. I aint mad at this pick and don't have much to say about it except that he allowed those 12 year old chinese girls to compete and ruled there wasn't sufficient evidence that they were too young (see: not 16) to participate. Whatever though, the chinese had the gymnastics sewn up anyways.
#26 Jimmy Kimmel
You mean the less funny/unoriginal partner to Adam Corrola (who didn't make this list, more on that later)? You mean the guy that every comedian in the world takes a shot at for having no talent and somehow managing to maintain a spot on late night television with top shelf guests? You mean the guy whos girlfriend (see: Sarah Silverman) makes her living making dick and fart jokes? Yup, thats him. Congrats Jimmy, you have given the rest of the comedic world more reason to resent you for being places you dont deserve to be.
#25 David Beckham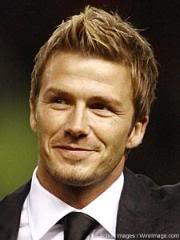 Whew. Look, in general im a fan of Beckham. The guy is ice cold. He's not half the soccer player he was...even...3 years ago, but somehow manages to trick every soccer team in the world into having a bidding war for his services. He straight pimped L.A. when they signed him for like 60 million and he didnt even play the first 5 or 6 games. HAHA. I love that type of iceyness, but other than that, the fact that he is a master of marketing himself, he doesnt do much for me. He's married to Posh, who i'll admit is fly, but Dog, your David Beckham, you're on that Brad Pitt fix (see: can have any bitch in the world). And can i please address the faux hawk. We all know my feelings on the faux hawk, and if you dont just click
HERE
and get caught up.
Im gonna stop here for now, but have no fear, im back on the warpath tomorrow.