Alright, so i didnt get to watch the premier episode of Real Chance of Love, but best believe ive got it locked up on the DVR to record on the next showing. Look, no excuses, im slackin on my job.. Im supposed to be here to watch this filth for the readers benefits, but lets just say i had to call it in early last night.
So after a little search on youtube, i keep coming back with hits from the one bitch Stalker... with a name like stalker, you know damn well shes a freak, in case you forgot, she looks like this: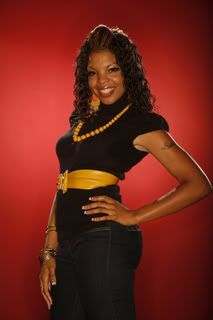 shes the broad with the crazy ass remy-ma bleached skunk braided wig piece poppin off.
Let me just say this though, that stock photo (see: above) isnt really doin ol girl much justice, maybe its the bad quality of the video but shes lookin right in the backyard here:
but you can tell how bourgy homegirl is in this video here..
HAHA, thats so ghetto with the back turned to homie (you could tell my man wanted to ike turner this hoe) still givin him the "talk to the hand" bizness. Is it just me or does homie sorta look like a taller, albeit slimmer, Avery Johnson with that rat hair on his upper lip tryna have a mustache look hes rockin... AND SERIOUSLY, why do ghetto muhfuckas always have on Mustard colored shirts? LOL. do some research and youll laugh as hard as i did.
But does it end there?? OH HELL NO... lots more good stuff from Stalker, im thinkin shes gonna be stickin around a while...
Some more videos for your viewing pleasure, not sure if its actually her, but somebody claims its a video she made for chance... its supposed to mimic the dance from that dumb ass Ciara song...
I aint mad at that backyard...
This one looks fake too, but its my duty to show it so here ya go...
the big girl gets runnin quick when she sees that knife though... but my question is this, WHY WAS THE CAMERA JUST SITTIN THERE?? i mean really...
-Ollie in translation