WHY OH WHY is Weezy still relevant? I mean, even I, the most opinionated person i know, have to admit that Weezy has hit us with some certified knockers, unreal word play, and overall ignant ass joints over the last 2-4 years... But lets get real ya'll, hes losing it. That Purple Stuff is really starting to take its toll and Weezy is falling off.
Hes supposed to be this musical genius, but i heard him say "oops i mean" 4-5 times in one verse!!! IN ONE VERSE!!!! damn son, thats clever... THE FUCK OUTTA HEAYAH, thats lazy. The claims to the throne that is currently, and forever will be, held by Jay-Z, have got to end. Fall back lil hot boy and stay in your lane. Im tired of it. You have to be movin folks ya dig?? Weezy delivers his best verbal thrashings on everyone elses mixtapes, so when it comes to drop an album his left with that bullshit he wrote in the sixth grade... WHICH, by the way, is still my favorite Weezy. I loved the combination of Weezy and Mannie Fresh (quite possibly my favorite producer right now), but im just tired of that slow flow, vocorder, cant feel my face, lazy ass sangin ass, mr. softee, ho-cakish nonsense. GET BACK TO WHATS REALLY HOOD WEEZ.
In other Weezy news, at a recent birthday party my man got handed a suit-case with "A milli" in cash from his "Daddy" Baby. YUP, you read that right, a million cash. Wonder if that was declared to the I.R.S.
The evidence: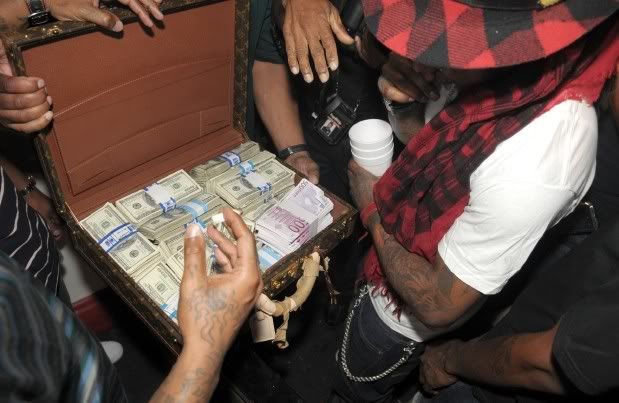 Damn my man needs to get his Amy Winehouse and get his ass "BACK TO REHAB".
And just cause im on the Weezy bashin ticket i have to hit you off with this photo of your man doin his worst "dont try this at home, im out of my mind, swagger like me, need to detox" victim of fashion thumbs up pose off...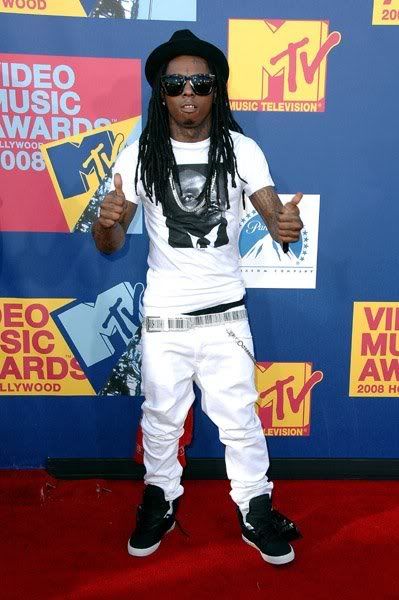 naddagoodlook ya dig??
White on White? check
Wearing what looks to be baseball sliding pants? check
Belt buckled all the way over on the hip? check
bedazzled belt? check
T-pain-esque fedora top hat? check
unlaced pony sneakers?? check
The worst part here is that, that outfit prolly cost somewhere in the 7-10 G range.
my man needs to take some fashion tips from his fellow southern crooners Webbie and Boosie and have his hoe (Lauren London, REALLY??) wipe him down...
Im jus sayin'.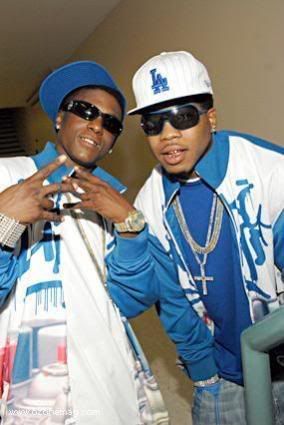 -Ollie Pop