Youre god-damn right, hes still that dude. Listen, ive said this a hundred times, DMX is the most passionate thug there is. This dude is just straight WILD! and i for one, LOVE it, (no homo) LOL. Lets take a look through the last year or so and see what ol' Earl has been up to...
August 2007 - Police raid his Phoenix home, find 12 neglected pitbulls, 3 dead pitbulls (buried), several unregistered weapons, multiple cars with un-matched license plates (see: chop shop).
May 2008 - In Phoenix, he is arrested twice in the same week. First he is arrested for excessive speeding (he was caught doing 114 mph)... then later in the week he barricaded himself in his home and had a standoff with police until finally giving in and being charged with 7 misdeamenor's including animal cruelty, and 4 felony counts of narcotic possession.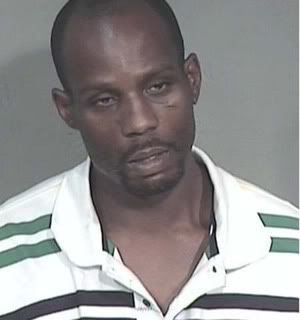 Damn yo, you can just see the pain in his eyes.
June 2008 - Nothing big, arrested for driving without a license in Miami, then arrested again for attempting to buy drugs from an undercover cop.
July 2008 - Picked up on 2 outstanding warrants from Phoenix. Later in the month after pleading not guilty to 2 felony gun possession charges he decided to bless the media with this little gem he sang...
"If and when you ever fall down, get back up. Drop something, stop fretting, pick that … back up, stand for something or fall for everything, wait for the right pitch or miss with every swing."
I didnt do this, but definitely appreciate the effort of whoever took the time to put together this collage of all of Dark Man X's mugshots...
Are we seeing the pattern yet? Least we forget, this is only since 2007.
This has nothing to do with his most wild stunt ever when he claimed to be a federal agent while willied out on crack and carjackin folk at gunpoint in a parking lot at JFK airport in NYC in 2004... like muhfuckas really dont know who he is??
Its a shame that this is the legacy the Dark Man is leaving, because he is one of the most talented and gifted rapper/actors in the game. I mean seriously, can you name a rapper turned actor that has handled shit better than X?? He played one of my favorited characters of all time in Belly (see: Bunz). We havent even begun to tap into the music catalog...
"Fuck what you heard, ITS WHAT YOURE HEARIN"
Damn X, get back to us... One of my favorite X joints of all time...
note: i had planned to embed a video from youtube for "Ruff Ryder's Anthem" but for some reason, Universal Music Group has blocked all embed codes so take your lazy asses over to youtube.com and watch the video. Shit kills me DOG. super thug.
But to get back to the point of this post, DMX never fails to amaze me and i truly believe hes got more heart than Rocky Balboa and would literally fuck up any nukkuh that stepped to him. YOU HEAR ME 50?? go see X, he will fight to the death.